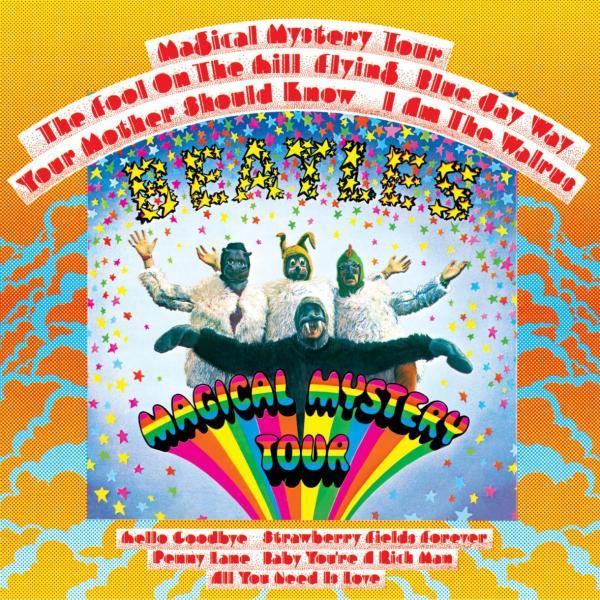 "Magical Mystery Tour" was not a 'real' album in the sense that Beatles never intended it to be so. Instead, it was meant to be a television special with some ridiculous footage, accompanied by five new songs.
The songs appeared in England on a double-EP with lots of photo stills from the film. The concept of an EP (an 'Extended Play' 7-inch record that usually contained 2 songs per side) was not viable in America, for two obvious reasons. First, consumers either didn't understand it or simply didn't like it, since it often had inferior sound to an ordinary 45 rpm single or a standard LP. Second, there were no 'EP' chart in America, so sales of any such product would not be properly accounted.
To remedy this, Capitol Records simply went back to doing what they had always been doing, which is creating product to suit their own needs. By adding six songs from three recent Beatles singles, the EP was easily fleshed out to become a full-length EP, and this time, Capitol's greed resulted in a very satisfying product.
The EP booklet was reproduced in 12" format instead of the 7" format that the British had, and six songs that didn't see the light of day on any album England now found a proper home in America. As a result, the critical failure of "Magical Mystery Tour" was diluted by the presence of some awesome hit songs:
Magical Mystery Tour
The Fool on the Hill
Flying
Blue Jay Way
Your Mother Should Know
I Am the Walrus
Hello. Goodbye
Strawberry Fields Forever
Penny Lane
Baby You're a Rich Man
All You Need is Love
November 1967 - Billboard Charted #1