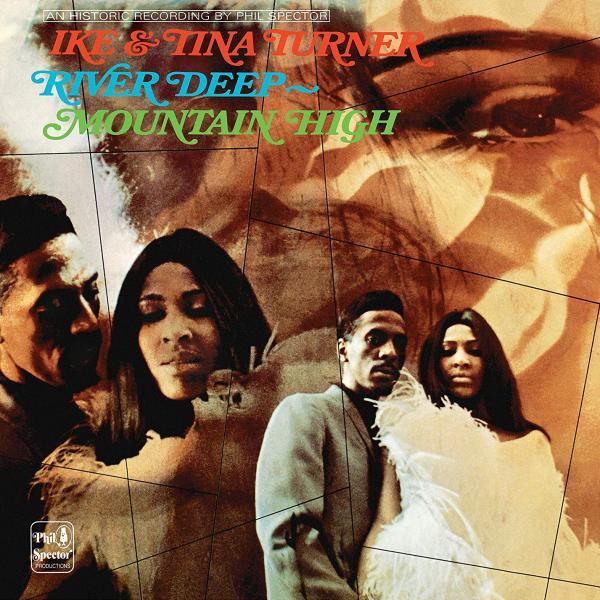 When I wrote "American Hit Radio," my book that covered 1,000 of the best popular singles from 1955 to 1994, I had one specific grievance with my final list. The only criteria for a song to be applicable for that book was that it needed to chart at least one week somewhere in the Billboard Top 40. Well, that and I needed to love the song myself.
That seemed like a fair enough requirement for a judgmental book about pop music, but it killed me that one of my all-time favorite songs of any genre did not qualify because it never charted any higher than #88. After taking credit for writing the song with Ellie Greenwich and Jeff Barry, Phil Spector produced Ike and Tina Turner's "River Deep, Mountain High," taking his wall-of-sound style of production about as far as it could possibly go.
With Tina, Spector found the perfect voice to withstand the assault of instrumentation, propelling the rhythm along, forcing each chorus to a momentous climax that holds up to the deep echo that bathes the string section, the horns, the percussion and the backing vocals. Spector did similar work with the Righteous Brothers, providing them with material and arrangements that allowed their tracks to build tension with dramatic shifts in dynamics, but on "River Deep, Mountain High," he utilizes every lesson he ever learned and shreds his own catalog. The song is so monumentally powerful that it is exhausting – by the time the song reaches the final climax, it is almost always makes me shiver.
Fifty years on, I still get goosebumps when I hear this song. How is it possible that the song was not recognized as possibly the best pop recording of all time? How is it possible that it didn't even make the top 40? Spector himself spoke of an industry-wide conspiracy to destroy his career, and after some consideration, I believe that he was correct. As most music fans know, Spector was spectacularly conceited and an incredibly difficult person to work with, and he made more than his share of enemies. The only truly plausible explanation for his masterpiece to be held back from the recognition it deserved is that people in power wanted to bring him down a peg. I genuinely believe that "River Deep, Mountain High" was the victim of foul play, and if the idea was to derail Spector, it worked. For years, afterward, he refused to take part in an industry that treated him with such disrespect.
With this review, I can partially right that wrong, at least insofar as I can list "River Deep, Mountain High" due to its inclusion on a long-playing record. Admittedly, I fought myself regarding its inclusion because the album itself is rough in spots, mixing some less than stellar work with a few great tracks. Spector is responsible for producing only half of the album, with Ike Turner taking control of the other half, and the difference in style is almost egregiously obvious.
Also, the album really hardly existed at all, at least not in America. While the single mysteriously tanked in the U.S., it rose to #3 in the UK, so an album was issued in the UK, with petulant liner notes from Spector, stating "We can only assume that England is more appreciative of talent and exciting music than the U.S.". Three years after the fact, the album saw American release, but by then it was much too late to matter. I choose the British import here because "River Deep, Mountain High" was a product of its time, defining the astounding sound of pop music before psychedelia changed everything.
The album is very much a mixed bag of great and throwaway tracks, but standouts like "It's Gonna Work Out Fine", "A Love Like Yours" and the remake of "Save the Last Dance for Me" give the album enough value to warrant its artistic relevance. Besides, if it contained nothing but "River Deep, Mountain High" repeated six times per side, I would still sing the album's praises. The title song is just that incredibly awesome.
September 1966 - Did Not Chart
Related Shows