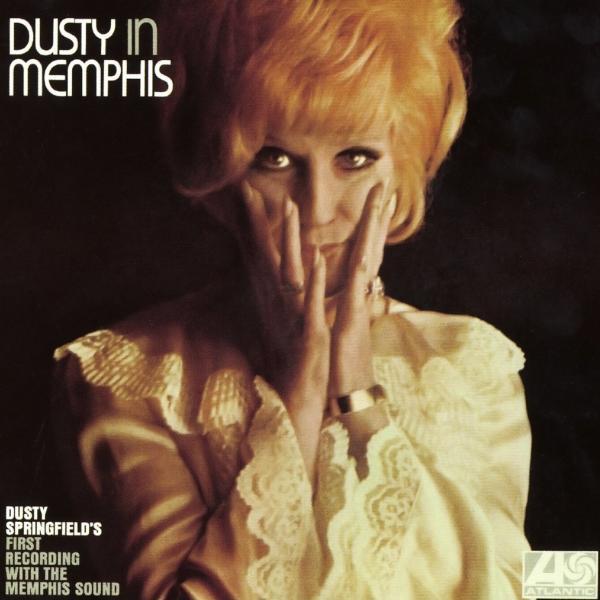 "Dusty in Memphis" is the interesting and incredibly satisfying result of two worlds colliding. The title says it all. Dusty Springfield was an English star during the British Invasion, thus representing an era when Memphis was struggling to retain its musical relevance. By the end of the '60s, Memphis was once again on top of its game, when a percentage of the British Invasion acts were taking day jobs.
At various points in time, there is often one city that takes the lead. New York, Seattle, Detroit, L.A., San Francisco and Philadelphia are just a sampling of cities that ruled the music scene for a period of time. In the mid '60s, that position obviously belonged to London, but as the decade ended, Memphis could well lay claim to the title. "Dusty in Memphis' is a signpost album that signifies the 'passing of the torch'. '
Springfield brought a cool sophistication to the grit and earthiness that defined the Memphis sound, and I mean 'cool' in both senses of the word. For one, she was a part of the Beatles generation – my generation, not my parents' – making it easier for teens to grasp these refined arrangements, and second, her voice is naturally imbued with British self-control and reserve. She was on Aretha's label, but her interpretations remained a continent apart.
At first, that affiliation (and that distance) intimidated Springfield, as she was deeply entrenched in the English style of manufacturing pop hits. In the mid-'60s, British producers usually prepared an arrangement well in advance of the recording date. When the singer arrived, he or she would perform over the prepared arrangement with the gathered musicians until they settled on a 'take' (It was at a number of these sessions that Dusty Springfield got to know session musicians such as Jimmy Page). Memphis did not make records the 'British' way. The southern players worked from 'head' arrangements, running through the song until it felt 'right'. Springfield had difficulty adjusting to that style, while simultaneously suffering the anxiety of knowing that these same players worked in exactly the same way with luminaries like Aretha and Elvis. Unable to adjust, Springfield ultimately completed the album in New York, after arrangements were finalized.
Despite her insecurity, the results were stunningly consistent, but with material this good, she needn't have worried. What songwriters! The teams of Bacharach/David and Mann/Weil each contributed a song, while Randy Newman added another pair (before anybody knew who he was). Gerry Goffin/Carole King wrote no less than four (!), and that doesn't even cover the hits ("Son of a Preacher Man" and "Breakfast in Bed" were written by Hurley/Wilkins and Hinton/Fritts, respectively). Springfield's anxiety yielded another surprising twist to music history. While conferring with Jerry Wexler about her discomfort with these recordings, she made mention of a few British session stars that she thought were wonderful, and also just happened to be looking for a record contract of their own. In a matter of weeks, Wexler and Atlantic Records signed their first major rock band - Led Zeppelin.
March 1969 - Billboard Charted #99