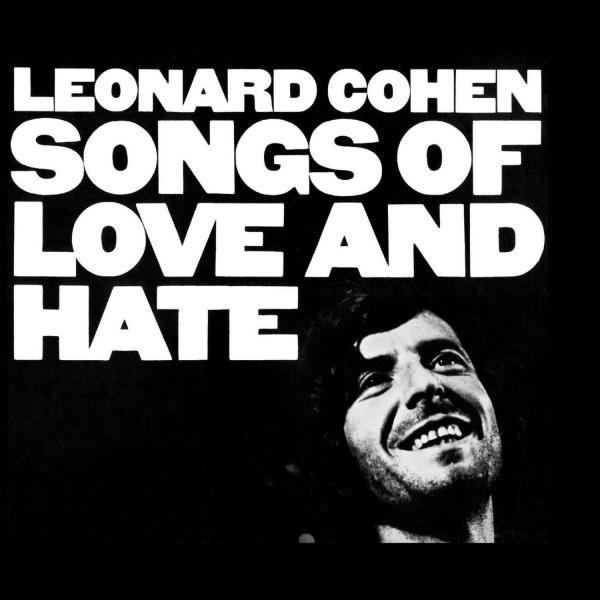 Too often, I've seen critical reviews of "Songs of Love and Hate" that take the title literally by attempting to divide each of the songs into either of the two most extreme human emotions. From my own perspective, these SOP-eyed critics fail to take the title literally enough – these songs do not present an either/or proposition.
As the title states, these songs express love and hate simultaneously. Leonard Cohen creates a musical universe that suggests an American Kurt Weill writing about self-obsessed thinkers rather than existentialist drinkers. The entire album has a darkly passionate quality, portraying a craven world where the shadows obscure the light, and evil trumps good – in song after song, love succumbs to hate.
"Avalanche" seems like an awkward way to start an album, but it works perfectly as a manifesto to love intermingled with hate, disguised as regret. "Last Year's Man" buries the very concept of love under an avalanche of religious iconography until the emotion is rendered obsolete. This song contains the first of two impossibly disparate and destructive marital couplings that appear on the album. Here, Babylon marries Bethlehem, a symbolic wedding of mutual destruction, while on "Joan of Arc," Joan is 'wed' to the flame that consumes her. Needless to say, these are not happy marriages. "Dress Rehearsal Rag" is the bluntest of character studies, wherein the proud (a delusional form of self-love) protagonist views himself in the mirror and launches into an internal dialogue of intense self-loathing. The creepy children's chorus only exacerbates the macabre nature of the considered suicide.
For the first time in his career, Cohen learns to wring intensity from his deadpan basso voice. "Diamonds in the Mine" is an angry, dismissive rant that finds Cohen almost yelling in frustration, and speaking of frustration, how in the world did Cohen conjure the mismatched couple in "Sing Another Song, Boys"? These are despicable characters that only Bertolt Brecht could love. "Love Calls You By Your Name" sounds like something beautiful until you realize that it calls you to the brink of non-existence, "between the ocean and your open vein, between the snowman and the rain." The siren's call is much more of a threat than a promise, more like an adjudicator than an angel. This is where the album balances on the head of a pin, between the ex-lover(s) in "Famous Blue Raincoat" who try desperately to forgive and see past the brooding hatred elicited by rejection and unfaithfulness, and "Joan of Arc", who dies for her love of God and country at the hands of a man who despised her for political reasons. "Songs of Love and Hate", indeed.
March 1971 - Billboard Charted #145