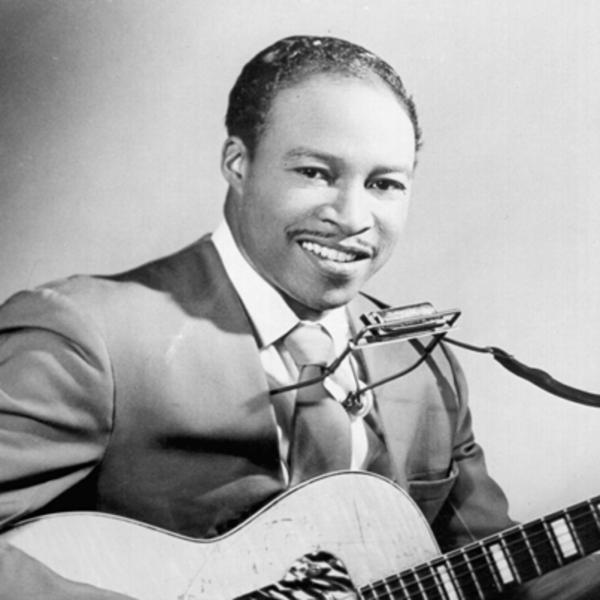 The Bad Boys - Ike Turner & Jimmy Reed
Episode 1
Episode date - September 29, 2006
Just because you are incredibly innovative and everyone looks up to you doesn't necessarily mean that your life is in order, and our two featured artists for this show prove that point rather handily.

Ike Turner may well be the most demonized figure to ever touch an instrument, thanks partially to his own behavior, and partially to a Hollywood movie that sanctified his ex-wife while portraying him as Rasputin of the chitlin circuit. Ike has been attempting to rebound from this public relations nightmare ever since, but first impressions usually stick, especially when it comes to celebrities. Subsequent jail sentences, drug problems and violent incidents didn't help his cause much, either. Nevertheless, the man opened doors for a lot of people, created some groundbreaking music, and his live revue served as a Lewis and Clarke expedition for others to follow. For all of these reasons, Ike can rightfully claim a hallowed place in the American music canon. So can Tina, whose intensity and raw sexual energy went way beyond anyone who came before her.

Jimmy Reed has a bad reputation of his own, but in a completely different manner than Ike's. Where Ike was bullying and autocratic, Reed relied almost entirely on others, sometimes just to help him stay on his feet. On recordings, Reed sounds like one of the most affable guys you'd ever want to meet. His music is the aural definition of laid back. The problem here is that there was a reason for that laid back sound. Reed had an affinity for alcohol that took precedence over virtually everything else in his life, and the stories that linger since his passing are superficially funny, but ultimately terribly sad. Regardless of the circumstances of their lives, both of these men opened doors and provided something new for others to carry on.
Features highlights from both of their careers, as follows;

1) Pinetop's Boogie Woogie - Pinetop Smith
2) Rocket 88 – Jackie Brenston & His Delta Cats
3) I'm Blue (Gong-Gong Song) – The Ikettes
4) Matchbox – Ike Turner
5) It's Gonna Work Out Fine – Ike and Tina Turner
6) River Deep, Mountain High – Ike and Tina Turner
7) Proud Mary – Ike and Tina Turner
8) I Ain't Got You – Jimmy Reed
9) Ain't That Lovin' You Baby – Jimmy Reed
10) Big Boss Man – Jimmy Reed
11) Baby What You Want Me to Do – Jimmy Reed
12) Bright Lights Big City – Jimmy Reed


Further Listening and Suggested Tracks

1) Pinetop's Boogie Woogie - Pinetop Perkins
2) Shoop – Salt 'N' Pepa
3) How Many More Years – Howlin' Wolf
4) I Ain't Got You – The Yardbirds
5) Ain't Got You – Bruce Springsteen
6) Ain't Got You – Solomon Burke
7) Ain't That Lovin' You Baby – Dale Hawkins
8) Ain't That Lovin' You Baby – Eric Clapton
9) Big Boss Man – Elvis Presley
10) Big Boss Man – Jerry Lee Lewis
11) Shame, Shame, Shame - Jimmy Reed
12) Shame Shame Shame – Bryan Ferry
13) Honest I Do – Jimmy Reed
14) Honest I Do – The Rolling Stones
15) Honest I Do – Aretha Franklin
16) Going to New York – Jimmy Reed
17) Baby What You Want Me to Do – John Cale
18) Baby What You Want Me to Do - The Byrds
19) Baby What You Want Me to Do - The Everly Brothers
20) Baby What You Want Me to Do- Etta James
21) Baby What You Want Me to Do- The Stray Cats
22) Baby What You Want Me to Do - Neil Young & Crazy Horse
23) Bright Lights, Big City - The Animals
24) Bright Lights, Big City - Neil Young
25) Bright Lights, Big City - Them, featuring Van Morrison
Channel 127 - The Bad Boys